The Peterson Family
is often referred to as
"Minnesota's First Family of Music."
Everyone in the Peterson Family is a musician/singer, including extended family (cousins Russy and Tommy), and the next generation.  
(Jason, Tracy, Isaac, Vanessa and Jeanne Taylor)

The Peterson Family has played with  Dizzy 
Gillespie, Bob Dylan, Steve Miller, Prince, Kenny Loggin'
s, Michael Bolton and countless others.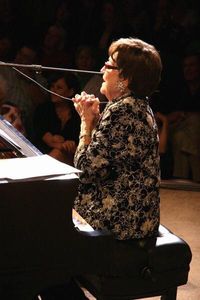 The story begins with the late great Jeanne Arland and Willie Peterson. Mpls Star/Tribune music critic Jon Bream wrote about Jeanne, prior to her 90th birthday celebration: 
Jeanne Arland Peterson is the grande dame of Minnesota jazz. Not only has she raised five children who are professional musicians, but she has amassed Minnesota Music Hall of Fame-worthy credits. 22 years in WCCO Radio's house band, led by her late husband, Willie.  
Three years as the Minnesota Twins organist.  
Performances with jazz stars George Benson, Sonny Stitt and Roy Eldridge, and entertainers Bob Hope, Perry Como and Red Skelton.  
Six albums in print (2009's "88 Grand" is her most recent, and it is grand)." 
     Actually, Jeanne had 7 albums....her last being "Dare to Dream, Jeanne Arlen plays Harold Arlen."  This was a live CD/DVD, and it really shows Jeanne's incredible improve skills.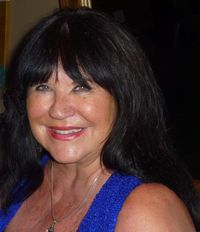 LINDA PETERSON 
is an international recording artist, song writer, pianist and vocalist.  She has appeared at the Copenhagen Jazz Festival several times.  
Linda has five CDs to her credit, two of which were recorded in Copenhagen, Denmark and the most recent CD, recorded in Buenos Aires with famed Argentine guitarist, Luis Salinas.   A new CD of Linda's original compositions was released in the summer of 2015, entitled "You Gotta Be Somewhere".   
Ms. Peterson lives and works in Palm Springs, California during season and travels to Florida, Minnesota and Europe and South America to work during the summer months.
BILLY PETERSON
is one of the premier, most celebrated bass players in the world. His uncompromising talents as a performer have brought him widespread recognition, as well as his plenty credits as a composer, arranger and producer. So it is no surprise that the world-renowned bassist is quite often also compared with a chameleon, but not only as he can fill many positions, but also as he is at home in several genres of music whether it be rock, pop, R&B, soul, jazz, folk or country.  
Peterson´s contributions to the music scene are inestimable and his imagination and boundless enthusiasm behind the bass are singular and stunning. During his extensive musical career, the permanently in-demand bassist has worked with many internationally famous, acclaimed artists, among them Carlos Santana, Bob Dylan, Neil Young, Prince, Les Paul or Steve Miller, just to name a few.